2 for 1 Train Ticket Details
get 2for1 offers at top attractions when you travel with us
Royal Museums Greenwich Day Pass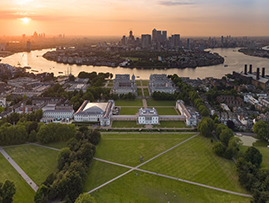 Advance booking only 

Make the most out of your day in Greenwich with the Royal Museums Greenwich Day Pass. Royal Museums Greenwich is home to the Royal Observatory Greenwich and the Prime Meridian, the iconic historic sailing ship Cutty Sark, the Queen's House Art Gallery and the National Maritime Museum.

Explore time and space at the Royal Observatory Greenwich and stand on the Meridian line at the home of the Greenwich Mean Time (GMT). Discover the site's rich history, from its royal heritage to its awe-inspiring Peter Harrison Planetarium, all set within Greenwich's beautiful park.

The Cutty Sark is the world's sole-surviving tea clipper, celebrated for her record breaking passages around the globe. Guests can come aboard and experience what it was like to sail this much-loved national icon. Walk underneath Cutty Sark's gleaming copper hull for an awe-inspiring view and the chance to admire the cutting-edge design that made her the fastest in the world.
The Queen's House was designed by Inigo Jones and is Britain's first classical building and a pioneering masterpiece of 17th-century architecture. Today you can enjoy the spectacular art, architecture and history of this beautiful royal villa.

The National Maritime Museum is the largest museum of its kind in the world. It appeals to visitors of all ages. Discover epic stories of exploration and endeavour that have shaped our world today.
Stay up-to-date
Subscribe to email updates. Get travel inspiration, journey updates and exclusive offers delivered straight to your inbox.
We will not pass on your personal information to any organisation outside of Thameslink.
Should we no longer operate the Thameslink franchise, please be aware that we will pass your details to the Successor franchise or Secretary of State for Transport to allow you to continue receiving service and/or marketing emails if you have consented to them.
Subscription confirmed
Thank you for subscribing to receive relevant updates from Thameslink.
Subscription Failed
Something went wrong with your submission, please try again later.