2 for 1 Train Ticket Details
get 2for1 offers at top attractions when you travel with us
The London Dungeon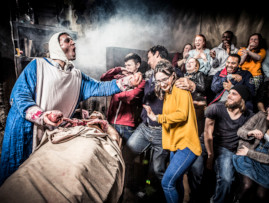 Advance booking only
The London Dungeon is open from 10.00-16.00 Friday to Wednesday and 11.00-16.00 on a Thursday.  All times are subject to change. Please check the attraction website before travelling.
2FOR1 Admission: £33 (Price subject to change)

The London Dungeon is a uniquely thrilling attraction that will whisk you way back to the capital's most perilous past. See, hear, feel and (ahem!) smell the chillingly amusing characters of the 'bad old days' as they come to life before you.

Step back in time and meet Guy Fawkes, Jack the Ripper, Sweeny Todd plus many more as you explore London's dark history, before recovering over a drink in our Victorian themed Tavern!

Will the 19 live shows and 2 thrilling underground rides claim you? Whichever way, it's not looking good for your underwear!

We continue to have additional hygiene and safety measures in place and we also highly recommend you continue wearing a face covering while inside our attractions.

Image Credit: Press Association

For full Merlin T&Cs please check here.

Stay up-to-date
Subscribe to email updates. Get travel inspiration, journey updates and exclusive offers delivered straight to your inbox.
We will not pass on your personal information to any organisation outside of Thameslink.
Should we no longer operate the Thameslink franchise, please be aware that we will pass your details to the Successor franchise or Secretary of State for Transport to allow you to continue receiving service and/or marketing emails if you have consented to them.
Subscription confirmed
Thank you for subscribing to receive relevant updates from Thameslink.
Subscription Failed
Something went wrong with your submission, please try again later.